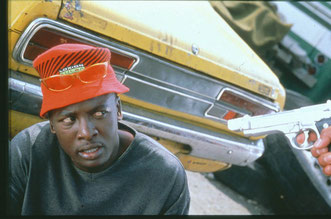 Almost at once, we confront the question: how is international success measured? And, following this, where is the movie? If I say, for instance, that Viva Riva! represents an African New Wave, I suppose it would be a truly audacious statement. And yet, I'd guess, fewer Africans have seen this movie than have seen the latest inane Bollywood fare. Asian martial arts and Latin American gangster movies had caught on and imposed a career, so, why not Africa's? Who can say whether this film's buzz – especially among the core group of African filmmakers who has seen it – will impose a narrative? To the extent it is possible to trace a connection, what comes to mind are certain gangster movies mostly from southern Africa, beginning at least with Mapantsula, Hijack Stories, Tsotsi, Jerusalema (Gangster's Paradise). What of the Calabash Cinemas of Idrissa Ouedrago – Yam Daabo, Yaaba, Tilai, Samba Traore? And the films of Mahamat Saleh Haroun – A Screaming Man, GrisGris? Do they constitute a career imposition? Merely to frame the question is to confront the answer.
In his book on African cinema, African Films–New Forms Of Aesthetics And Politics, Manthia Diawara traces the three major strands in the "new African Cinema wave": the Arte wave, with Abderrahmane Sissako, Gahite Fofana, Mahamat-Saleh Haroun as its standard bearers; The Guild of African Filmmakers, a pan-African and diasporic strand that includes Jean-Pierre Bekolo, Balufu Bakupa-Kanyinda, Jihan El-Tahri, Newton Aduaka, and John Akomfrah; as well as a "narrative strand" with directors like Zeze Gamboa, Mansour Sora Wade and Cheick Fantamady Camara. The book offers also a fine insight into the role the French Centre National du Cinema (CNC) plays in determining what African Cinema is and who the African Filmmaker is – separately, Sembene Ousmane, Souleymane Cisse, and Idrissa Ouedrago. What these strands have in common is European funding. Funding, of course, was not disinterested munificence: it came, for the most part, with rights to distribute the films in non-commercial venues. This, on the one hand, raises the question of commercial viability – and hence, international commercial success – for would-be commercial distributors. On the other hand, the existence of these strands complicates translocal narrative imposition based on international success.
Narrative is externally imposed. First of all, African films on the international circuit simply make the rounds of festivals, arthouse cinemas, and educational institutions. They hardly achieve international success and hardly turn in a profit, and hardly get seen in Africa. Tahar Cheriaa's Third Cinema prescription for African filmmakers had set the tone: "Your cinema shall be militant cinema," he had written. "It shall be first and foremost a cultural action with social and political value, or it will be nothing. If it eventually can also become an economic action, that will only be a by-product." This had made African cinema, in its earlier phase, an intellectual's cinema, a cinema that does not approach commercial viability – that is, producing on the basis of profits from previous productions – rather, one that depended on grants from mostly  European funding agencies. Necessarily, this gave way, with the collapse of the liberation struggles across sub-Saharan Africa, to the era of "calabash cinema" – a cinema that catered to Europe's vision of Africa – childlike in its innocence and simplicity. Whereas this cinema established a niche for itself within the context of international cinema it penetrated Africa only peripherally.
Because, I think, to a great extent that these strands are intimately connected with the colonial-linguistic division of the continent, one cannot really tackle the question without first posing the question: what is African Cinema? "First of all, I'd just like to say that the use of "African Cinema" as some kind of official term really needs to be discussed", wrote French-Guinean filmmaker Mama Keïta. "I've already mentioned that I see this as a totally bogus label … As  far as I'm concerned, "African Cinema" is a colonial creation, an abbreviation used by a range of French institutions. People say "African Cinema" in the same way they say they have problems telling one African from another." One is inclined to agree with Mama Keïta. A person can talk about European cinema and still understand and delineate the various national strands, viz. Italian neo-realism, German expressionist cinema, etc. As an aside, it is curious to note that, in spite of the sweeping terminology, whenever "African Cinema" is mentioned, and whenever films from Africa are shown, films from the Maghreb and even South Africa are usually excluded. All too often, "African Cinema" exhausts itself in films from the Francophone.
All too often the term African Cinema erases all distinctions and conflates films from Africa into a common denominator. It stems from the exotic notion of Africa as black and as a country. To the extent that African filmmakers do not challenge this notion by presenting films in their diversity it becomes an imposition. In what does this imposition consist? Here, I wonder if I can digress somewhat and pursue a somewhat related thought without causing offense?
It seems to me that the relative international success, that is, at international film festivals, of certain African films and filmmakers is based on cultural chauvinism, a patronizing European attitude: stick to these simple films, you outdo yourself when you attempt complexity. Recall that Ouedrago won FIPRESCI with Yam Daabo, Cannes'Grand Prix with Tilai, Berlinale's Silver Bear with Samba Traore. Rather than constitute a continental imposition, these films' festival success simply solidifies Ouedrago's personal career as a professional collaborator in the production of exotica.

One can say the same of Saleh Haroun's A Screaming Man, Cannes'Jury Prize. Because these fims were taken to be "true" – in dealing with African rural poverty, they presented the pristine, primitive view of Africa consistent with European stereotype – they achieved relative success at international film festivals (not in international distribution).
One can equally say the same of the earlier gangster films before Viva Riva! – they presented urban poverty in apartheid and post apartheid South Africa. However, this, that worked in the favour of these films, equally worked in their disadvantage: quite apart from the question of authenticity, how many people on the continent wants to sit through repeated bombardment with images ostensibly taken from the reality? That I live it does not necessary mean I want to see it. In this lies the strenght and weakness of Nollywood. We shall deal with this, presently.
Briefly, on Sembene. Take, for instance, Moolaade, a film I mention immediately after the above point for only one connecting reason: visibility on the continent. Inspite of the film's critical acclaim – late American film critic, Roger Ebert, gave it glowing tribute – the only African country in which it screened was Morocco. Sembene's films, to be sure, was not troubled by commercial stratagems. He made no shortcuts to European feelings, no passes at "perfect" cinema and, therefore, no international success. I recall a conversation I once had with Black Audio Film Collective co-founder, John Akomfrah, on Sembene in connection with Imperfect Cinema, on why a proper appraisal of Sembene's cinema demands a revision of customary cinema standards. By the conventional standards of "perfect" cinema, Sembene's movies are bad movies, imperfect, so to say. But, that is not the point: Sembene's artistic success – imperfectness, and all that – did not impose a career on the continent. Bet, Nollywood, without international success in the form of festival prizes, critical acclaim and international distribution is imposing a career on the continent. Djibril Diop Mambety had said, in connection with (African) cinema: "I believe that Africans, in particular, must reinvent cinema. It will be a difficult task because our viewing audience is used to a specific film language, but a choice has to be made: either one is very popular and one talks to people in a simple and plain manner, or else one searches for an African film language that would exclude chattering and focus more on how to make use of visuals and sounds".
In this regard, one can say the same of Nollywood: either one surrenders unconditionally to the imposition of a career, without a fight, to the tyranny of the popular, or one searches for the courage and artistry to extend the borders of the film experience.
For the most part, I use the term Nollywood as the imagined monolith construct produced by Western hegemonic discourse. Over time, international focus on Nollywood has shifted from elite curiousity, fascination with the exotic, to a one-sided gaze that is manipulative and reproduces the hegemony so central to imperialist relations.
The piety surrounding Nigeria's mainstream narrative is not a victory but a loss. Nollywood losses its appeal as a radical reaction to an ossified, Francophone narrative, becoming desirable, as the only valid narrative, just for being popular. Semiotics, in the sense of a purely sociological analyses and exhibtion of Nollywood – as a side show in international film festivals – is used to impose Nollywood as a career, a monolith, an eternal given accross the continent. The careerism is in the restriction of aesthetic choices: people, African people, are unwilling to enjoy something better from African movies. This imposition – helped along by academic researchers who can permit themselves to enjoy popular culture only after throwing a toga of respectability over it in the form of academic research (it is the only way they can permit themselves enjoy popular culture without feeling they are slumming?) – defraudes the continent.

The imposition of Nollywood as a career across the continent and among diaspora filmmakers is not a reinventing of African cinema. Nor is it a result of Nollywood's international success. Rather, it's an expression of the inability of African movies to achieve international success aesthetically. Always, movies from Africa smashes itself against the constructed expectations of international spectatorship – in the sense that there is a standard of aesthetics for African movies. It's why African movies that succeed at international film festivals never impose a career on the continent. Having subordinated themselves to these aesthetic expectations, African filmmakers, mostly due to no fault of theirs, are unable to an aesthetic counter-critique: African movies are for the most part financed not from Africa.
CHEEKA Didi
 Nigeria
References:
A Screaming Man by Mahamat-Saleh Haroun, fiction, Chad, 2010
CHERIAA, Tahar. "African Cinema and the Headshrinkers: Looking back at a Strategy for Liberation." In: African Experiences of Cinema / edited by Imruh Bakari and Mbye B. Cham. pp: 42-44. London: BFI Pub., 1996.
DIAWARA Manthia, African Film - New Forms of Aesthetics and Politics, Prestel Ed., 2010
Hijack Stories by Oliver Schmitz, fiction, South Africa, 2000
Jerusalema by Ralph Ziman, fiction, South Africa, 2008
Mapantsula by Oliver Schmitz, fiction, South Africa, 1987
Moolaade by Sembene Ousmane, fiction, Senegal, 2002
Samba Traore by Idrissa Ouedraogo, fiction, Burkina Faso, 1992
Tilai by Idrissa Ouedraogo, fiction, Burkina Faso, 1990
Tsotsi by Gavin Hood, fiction, South Africa, 2005
Viva Riva! By Djo Tunda wa Munga, fiction, DRC, 2010
Yaaba by Idrissa Ouedraogo, fiction, Burkina Faso, 1989
Yam Daabo by Idrissa Ouedraogo, fiction, Burkina Faso, 1986

 Film critic,  filmmaker and curator, CHEEKA Didi is based in Lagos, Nigeria.