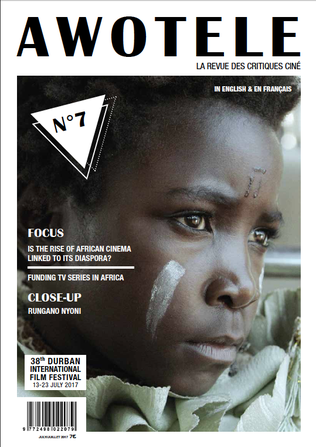 This joint venture continues, thanks to the growing interest of readers. The printed version of Awotélé #7 is getting greater exposure at international festivals where African films are circulating. Awotélé's return to the Durban International Film Festival is in line with our will to bridge Anglophone and Francophone voices in renewed dialogue.
The strong presence of filmmakers from the diaspora in African cinema relations and on its screens, raises a challenge, and warrants a spotlight in this edition. The success encountered by TV series is another incentive for us to go further and ask, within a second focus, how this type of productions can be funded in Africa. The recognition of emerging figures in African cinematography leads us to present a new section for them to speak. This edition starts with Zambian filmmaker Rungano Nyoni, who came to light at the last Cannes Festival.
Awotélé #7 is here to encourage new perspectives through an ever-evolving formula open to suggestions from readers and professionals who care about the African continent. We hope you will enjoy your reading and we wish you a great cinema summer season.
The Editorial Committee