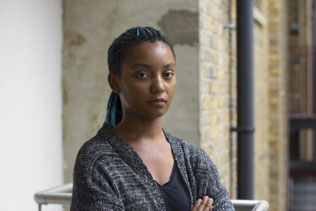 Born in Zambia and raised in the UK, Rungano Nyoni presented her first feature I Am Not A Witch at this year's Cannes Director's Fortnight. In the movie, a young girl (Maggie Mulibwa) is accused of witchcraft and sent to a witches' camp. A respected man (Henry Phiri) decides to use her "gifts" for his own business. His spouse who, by association, is accepted by the community, leads the mute child on an alternative path. Nyoni, who has previously directed the successful shorts 20 questions and The List (2009) Mwansa the Great (2011) and Kuuntele (2014), took time to talk to AWOTELE.
AWOTELE: How long did it take to write I Am Not a Witch and shoot this first feature?
RUNGANO NYONI: I wrote the script through Cannes' Cinefondation in 2013. I wanted to give my film the best chances it could get because I've seen all the problems African films are facing in terms of distribution. Everyone was telling me I won't have money: "Oh, you're not shooting in English? You won't have money for that!" I had the worst expectations so I wanted to raise money from different territories for development because at least they will promote the film. So I've got finance from UK, Netherlands (Hubert Bals Fund) as well as Vision Sud-Est (Switzerland) and ARTE (France) through Locarno Open Doors, where I won two prizes and I've raised about 40.000€ for development. I saved half of it in case I wouldn't have enough money for the production. I was always figuring the worst case [scenario]. Then we had the CNC (France), thank God! (smiles). So, in total, it took three years to write and shoot the movie.
Surprisingly, the name of your main character is Shula, which is also the name of the girl in your worldwide hit Mwansa the Great. Why?
R.N.: It is an important name in my family. Shula was my grandmother and she broke a lot of traditional rules. So, she is an inspiration. A lot of women in my family are tough, strong women. I think Shula is the one who starts all of that. She was like a seventh wife of a chief and when came the agreement to marry him [sic], she said: "You have to marry just me." And she got what she wanted - which was really unusual. I always use her to strengthen my characters. But maybe is it the last shooting with this character, I should move on ( smiles).
What is your interest in writing a child character?
R.N.: I don't know why I'm obsessed with children. I don't use the child the way maybe people use children. I don't use them to show innocence. It's just because it makes her different. If the witch camp had been full of children, my character would have been older. I just wanted something to make women think about their lives. If someone looks like them, what would make them change? And a kid makes them realize their lives.
Where did you find your main actress?
R.N.: We found her really early through a reccie we did. The location manager, who is also my husband (Gabriel Gaucher, NDA), took a picture of her and told me "She is interesting". I thought, "Yes, she is the one!". Then, we came back when we had funding. We'd started shooting in Lusaka and so I started the audition process again. I auditioned more than a thousand girls and I thought "I don't know…" Gabriel told me: "You should find that girl". I was sceptical. Then, from just a picture, they sent it to head chiefs who sent it to a lot of people. They found her uncle, in one of the small towns, Samfya, and they located her in about a week. I was nervous because I put everything on just a picture. But she was perfect, smart. Now she wants to make the next film in English (smiles).
There are various African movies about witches: Pierre Yameogo's Delwende (Burkina Faso), Yaba Badoe's The Witches of Gambaga (Ghana)… Where did the idea of a film about witches come from?
R.N.: I knew a lot about witch accusations and witch camps. I was writing at the time in Zambia when my neighbour accused her grandmother of turning herself into a snake. My grandmother doesn't believe in that. She thinks it is exploitative. So it was just interesting because it was happening in Lusaka and not in the rural places where it usually happens. So I've started reading a lot of things about witchcraft and I thought that it would be a great place to set what I was wanting to say in my story.
Is it still happening in Zambia? Like in the scene where tourists are coming to take pictures of the witches?
R.N.: Yes and throughout Africa. I went to Ghana, to stay in a witch camp for a month. And I researched. So the film is a representation of a lot of different.... It is still happening in Zambia and witch accusations are actually illegal in most parts of Africa. But there's a huge belief about witches and witchcraft. The idea of the tourists came from seeing a witch camp. I tried to take photos of the women and they were really resistant at the beginning. They said: "Well, people always come to take pictures of us then leave". I understood that. And I wanted to talk about it, somehow, in the film. I made everyone into objects deliberately in the film andhopefully, until the end, into a feeling which is part of us.
There are two stunning visual choices in your movie: the white ribbons that links the witches, and the red dresses they all wear at the end. Where did you get these aesthetic ideas?
R.N.: I was in Kiev (Ukraine), watching a ballet, Margarita, which is a famous book. The ballet dancer was controlling all the women dancing in the sky with ribbons and I thought: "That's exactly what I want visually". The red dresses at the end is a reference from Ghanaian funerals. They told me that they used to wear black but when a young person dies, they wear red. And I thought this is what I wanted for the women.
Did you work with a Zambian production company and a Zambian crew?
R.N.: My aunt and I set up a company; she is the accountant, and basically the director. There is just a lack of experienced people. So we had to facilitate that income and get a lot of support, find money from abroad… It was difficult to find a producer and I was scared. It's about trusting the people with the money. It is really difficult. As the money came from Britain, all the head of departments were British. So I made sure to get a Zambian cast and Zambian assistants. We worked a lot with people from the film school. Film is intended to be for privileged people, whether you are in Zambia or in Europe. So we were really conscious of getting people from different tribes and different social levels.

What are your cinema influences?
R.N.: My biggest influence on this movie was Djibril Diop Mambéty's Hyenas. In terms of absurdity, it has the tone I wanted and it also went to Cannes in competition. He talks about exploitation in a tone I really like: a comedy that turns into a tragedy at the end. In terms of cinema in general, it's always Michael Haneke or Paul Thomas Anderson. They are my two gods. The Piano Teacher was the first movie I watched from Haneke and he made a bourgeoisie white woman feels like it's me. He took this really hard woman into unconventional things. These people who are usually so far from me, he made me think like it's me. That's why I love it.



What is the current state of Zambian cinema?
R.N.: There were several filmmakers: Musola Cathrine Kaseketi did a film in 2009. I think it's one of the first ones, a Finnish coproduction. Jessie Chisi is a wonderful documentary filmmaker; she did a really good film Between Rings, about Esther Phiri, a Zambian boxer that was screened by Al Jazeera television. There are mostly women I should say. Zambia is matriarchal but most African filmmakers I know are women, honestly: Wanuri Kahiu from Kenya, Akosua Adoma Owusu from Ghana… I never feel like a woman when I shoot in Zambia. But while I'm in Britain yes, I feel it.
One topic of this AWOTELE issue is the rise of African cinema through its diaspora. From a British perspective, what do you think about that?
R.N.: It now does. It would not have a couple of years ago. Time did well because there is now this diversity rise. I should say every ten years, since the 70s, people realized that cinema is full of white middle-class men so they get people, forget about it and go back to the same thing. This is the latest one. "Diversity" is the word. And people realizing there are not enough representations, I think I've come around [at] the right time. And I don't mind if people think I got it because I'm a black woman because it is really unfairly chosen anyway. African cinemas are driven by the diaspora although there are not so many Black women filmmakers in the UK. It's quite worrying. There are only 5 Black women that have released a movie in the UK. I think I would be the sixth if my movie gets released.
Interview made in Cannes by DIAO Claire
ASCRIC-B
France/Burkina Faso
Références :
Between Rings by Jessie Chisi, doc, Zambia, 2014
Delwendé by Pierre Yaméogo, Burkina Faso, 2005
Faith by Musola Cathrine Kaseketi, doc, Zambia, 2009
Hyenas by Djibril Diop Mambéty, fic, Sénégal, 1992
I Am Not a Witch by Rungano Nyoni, fic, UK/Zambie/France/Suisse, 2017
The List by Rungano Nyoni and Patricia Carreira, fic, UK, 2009
Kuuntele by Rungano Nyoni and Hamy Ramezan, fic, Denmark/Finland/Colombia, 2014
Mwansa the Great by Rungano Nyoni, UK/Zambie, 2010
The Piano Teacher by Michael Haneke, France/Autriche, 2001
The Witches of Gambada by Yaba Badoe, doc, Ghana, 2005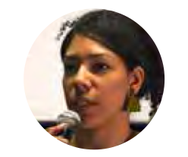 Journalist and Film Critic, DIAO Claire is co-founder of AWOTELE magazine,
and member of the Burkinabe Film Critic Association (ASCRIC-B), based in Pantin, France.