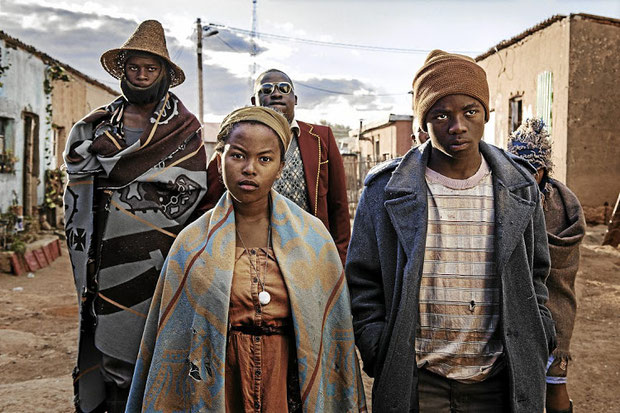 Five Fingers for Marseilles will be screened at the Brics Film Festival on Monday July 23
EN - From July 22 to 27, the 10th annual 2018 Brics Summit presents a festival of free films. 
Entry to the films is free and open to the public and the winners will be awarded at a closing event on Friday July 27.
This is the line-up: 
Wednesday 25: Brazil Day
Boy and the World 13h00
A multi-award winning animated feature, a visually captivating and inventive cautionary tale of the dangers of globalization.
Two Irenes 15h00
A young girl discovers another girl named Irene living in her small town, and soon they uncover a well-kept secret.
Elis 17h00
The turbulent and charismatic life and times of Elis Regina, one of Brazil's greatest and best-loved singers of all time.
Araby(competition entry) 19h15
A teenage boy finds a sick factory worker's memoir, transporting him into the story of the man's travels across south-eastern Brazil in search of work over the last decade.
Gabriel and the Mountain (competition entry) 20h45
Follows the true story of Brazilian backpacker Gabriel Buchmann's travels through Africa before meeting his end on Mount Mulanje in Malawi.
Thursday 26: China Day
Big Fish & Begonia 11h00
A lush animated adventure based on ancient Chinese legends and tells the tale of a spiritual world that exists beneath the ocean floor.
Hold Your Hands 13h10
Chronicles a former soldier's efforts to lift his family out of the hardships of rural poverty.
Kung Fu Yoga (competition entry) 16h00
Jackie Chan's latest hit sees him playing a professor on a wild adventure chasing an ancient Indian treasure stolen by mercenaries.
I Belonged to You (competition entry) 18h30
Three stories of love, loss and devotion intertwine in a romantic drama set against stunning Chinese cityscapes and green country sides.
BRICS Co-Production:
Half the Sky 21h00
2nd multilingual, participative BRICS co-production: Chinese-produced & directed by five BRICS women film-makers, it weaves together poetic vignettes about archetypal women.
Friday 27: India Day
(TBC)
Sinjar
A 2017 Indian Jasari film by Sandeep Pampally. Based on true events - a British insurance agent recruits the help of an ex-Army ranger to help him rescue his sister from ISIS.
Bahubali 2 – the Conclusion
Fantasy action film – When Shiva, the son of Bahubali, learns about his heritage, he begins to look for answers.
Bhayanakam
A Malayalam–language Indian film by Jayaraj; a World War II postman delivers money orders and letters from men in the battlefield, until one day…
Newton (competition entry)
2017 Indian comedy drama by Amit V Masurkar about a government clerk trying to run a free and fair election in a conflict area in central India. With Rajkummar Rao; Pankaj Tripathi; Anjali Patil.
Village Rockstars (competition entry)
A 2017 Indian Assamese language coming-of-age film by Rima Das, about a young village girl who wants to start her own rock band.
Awards Ceremony 19h00
Entry to films is free, and all are welcome!
Hosted by Department of Arts and Culture (DAC)
Implemented by the National Film and Video Foundation (NFVF)
Programming may change: for more info: durbanfilmmart.co.za
AFRIQUE DU SUD - Le dixième sommet annuel des BRICS en 2018 présente le festival des films gratuits des BRICS!
FR - Du 22 au 27 juillet, la 10e édition du Sommet des BRICS 2018 présente un festival de films gratuits.
L'entrée aux films est gratuite et ouverte au public et les gagnants seront récompensés lors d'une cérémonie de clôture le vendredi 27 juillet.
Voici la liste de films à voir:
Mercredi 25: la journée du Brésil
Boy and the World 13h00
Un long métrage d'animation primé, un récit d'avertissement visuellement captivant et inventif des dangers de la mondialisation.
Two Irenes 15h00
Une jeune fille découvre une autre fille nommée Irene qui vit dans sa petite ville et bientôt, elles découvrent un secret bien gardé.
Elis 17h00
La vie turbulente et charismatique et les temps de Elis Regina, l'un des chanteurs les plus grands et les plus aimés du Brésil de tous les temps.
Araby(competition entry) 19h15
Un adolescent découvre les mémoires d'un ouvrier d'usine malade, le transportant dans l'histoire des voyages de l'homme à travers le sud-est du Brésil à la recherche de travail au cours de la dernière décennie.
Gabriel and the Mountain (competition entry) 20h45
Suit l'histoire vraie du voyage au Brésilien Gabriel Buchmann 's voyageant à travers l'Afrique avant d'atteindre son but sur le mont Mulanje au Malawi.
Jeudi 26: la journée de la Chine
Big Fish & Begonia 11h00
Une aventure animée luxuriante basée sur d'anciennes légendes chinoises et qui raconte l'histoire d'un monde spirituel qui existe sous les fonds marins.
Hold Your Hands 13h10
Chroniques des efforts d'un ancien soldat pour sortir sa famille des difficultés de la pauvreté rurale.
Kung Fu Yoga (competition entry) 16h00
Le dernier succès de Jackie Chan le voit jouer un professeur dans une aventure sauvage à la recherche d'un ancien trésor indien volé par des mercenaires.
I Belonged to You (competition entry) 18h30
Trois histoires d'amour, de perte et de dévouement s'entremêlent dans un drame romantique opposant des paysages urbains magnifiques et des paysages verdoyants.
 Co-Production des BRICS:
Half the Sky 21h00
2ème coproduction multilingue et participative des BRICS: produite en Chine et dirigée par cinq réalisatrices du groupe BRICS, elle tisse des vignettes poétiques sur les femmes archétypales.
Vendredi 27: la journée de l'Inde
A confirmer
Sinjar
Un film indien de Jasari en 2017 de Sandeep Pampally. Basé sur des événements réels - un agent d'assurance britannique recrute l'aide d'un ex-garde de l'armée pour l'aider à secourir sa soeur de l'Etat islamique.
Bahubali 2 – the Conclusion
Film d'action fantastique - Lorsque Shiva, le fils de Bahubali, apprend son héritage, il commence à chercher des réponses.
Bhayanakam
Un film indien en langue malayalam de Jayaraj; un facteur de la Seconde Guerre mondiale délivre des mandats et des lettres d'hommes issus du champ de bataille, jusqu'au jour où ...
Newton (entrée dans la compétition)
 Comédie dramatique indienne de 2017 d'Amit V Masurkar à propos d'un employé du gouvernement qui tente d'organiser des élections libres et régulières dans une zone de conflit en Inde centrale. Avec Rajkummar Rao; Pankaj Tripathi; Anjali Patil.
Village Rockstars (entrée dans la compétition)
Un film sur le passage à l'âge adulte en langue indienne Assamese en 2017 de Rima Das, à propos d'une jeune villageoise qui veut créer son propre groupe de rock.
Awards Ceremony 19h00
L'entrée aux films est gratuite et tous sont les bienvenus!
Organisé par le Département des arts et de la culture (DAC)
Mis en œuvre par la Fondation nationale du film et de la vidéo (NFVF)
La programmation peut changer: pour plus d'informations: durbanfilmmart.co.za