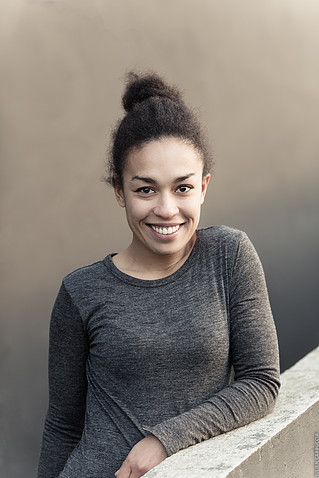 FRANCE/CAMEROON - Actress of the day: Marina Monmirel
FR - Marina est une comédienne franco-camerounaise entrée en formation professionnelle aux cours d'art dramatique Jean Périmony en 2006. En 2007, elle joue notamment dans Le bal des Touloulous de Nadine Fidji mis en scène par Benjamin Jules Rosette. Marina est une comédienne qui a plus d'une corde à son arc. Elle se distingue par sa polyvalence car elle pratique la danse africaine, la salsa, le rock et la gymnastique.
En 2008, elle fait son entrée au cours d'art dramatique Marie Boudet. Puis, en 2010, elle joue dans Les ronces de Vladimir Mudev, mis en scène par Antonin Fadinard et interpréta Lisette dans Le jeu de l'amour et du hasard de Marivaux.
De 2009 à 2011, elle s'illustre dans le rôle de Mme Darling, Laplume, Lys Tigrée et Jukes dans le Peter Pan de la Compagnie Acte II. Par la suite, elle décide de poursuivre l'aventure avec la compagnie Acte II en interprétant Frontin et Arlequin dans La Fausse Suivante de Marivaux et en reprenant le rôle de Bagheera dans Le Livre de la Jungle, dernier spectacle jeune public de la Compagnie.
Ses films notables sont Le mentor (2012), Protocole Zero Chronicles (2014) et Monsieur Cauchemar (2015).
EN - Marina is a Franco-Cameroonian comedian who entered professional training at Jean Périmony's drama classes in 2006. In 2007, she played in Nadine Fiji's The Ball of Touloulous directed by Benjamin Jules Rosette. Marina is an actress who has more than one string to her bow. She stands out for her versatility as she practices African dance, salsa, rock and gymnastics.
In 2008, she entered the drama class Marie Boudet. Then, in 2010, she played in Les bronces by Vladimir Mudev, directed by Antonin Fadinard and played Lisette in The game of love and chance by Marivaux. From 2009 to 2011, she distinguished herself in the role of Mrs. Darling, Laplume, Tiger Lily and Jukes in the Peter Pan of the Acte II Company. Subsequently, she decided to continue the adventure with the company Act II interpreting Frontin and Harlequin in The False Follower of Marivaux and taking over the role of Bagheera in The Book of the Jungle, the latest young public show of the Company.
 
Her most notable films are The Mentor (2012), Protocol Zero Chronicles (2014) and Mister Cauchemar (2015).