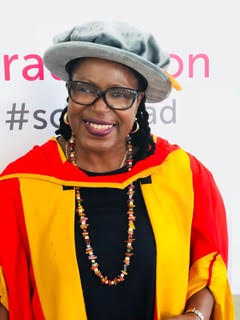 Royaume-Uni: Doctorat honoraire de l'Université de Londres (école des études africaines et orientales)
ENG - June Givanni has received an Honorary Doctorate from SOAS, University in London in July. June is a pioneering international film curator who has more than 30 years of expertise in film and broadcasting. She is regarded as a resource for African and African diaspora cinema. The development of the Pan-African Cinema Archive is based on her collections from years of working in cinema. 
FR - June Givanni a reçu un doctorat honorifique de SOAS, Université de Londres en juillet. June est pionnière dans la conservation de film à l'international possédant plus de 30 ans d'expertise dans le domaine du cinéma et de la diffusion. Elle est considérée comme une ressource pour le cinéma africain et celui de la diaspora. Le développement des archives panafricaines du cinéma s'appuie sur ses collections issues de ses années de travail au cinéma.