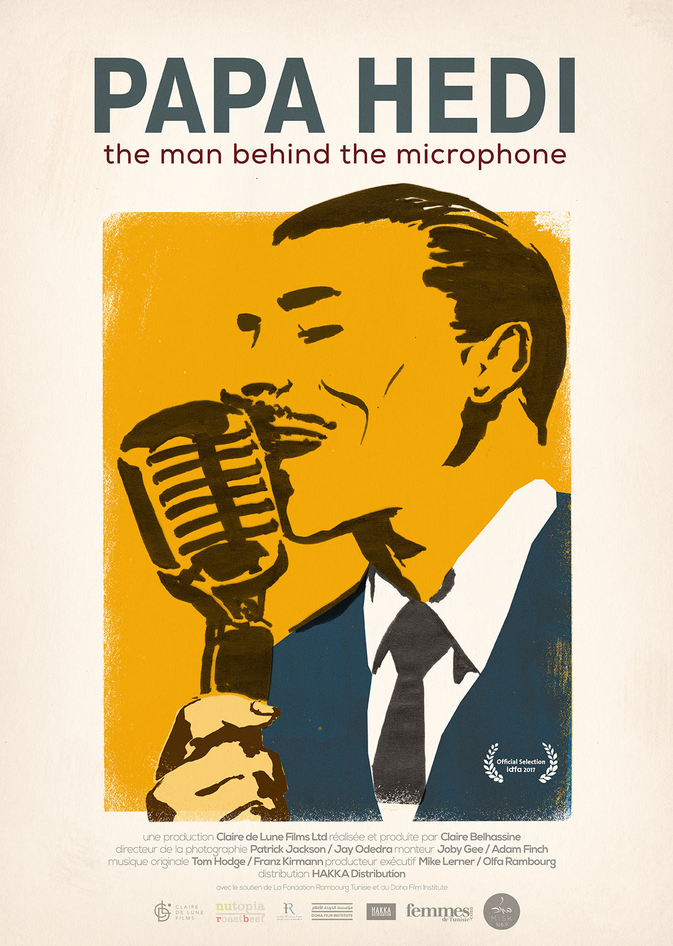 TUNISIA - Release of PAPA HEDI: The Man Behind The Microphone
FR - Ce film distribué par Hakka Distribution sort en salle aujourd'hui en Tunisie. PAPA HEDI: The Man Behind The Microphone est un film réalisé par Claire Belhassine. C'est un documentaire co-produit par la Tunisie, le Royaume-Uni et le Qatar en 2017.  
En 1h26, ce film illustre la vie passionnante de Hedi Jouini chef de file de la musique tunisienne en abordant les thèmes de l'amour, de la famille, de la célébrité et enfin de la musique.
Synopsis
Hedi Jouini est la star musicale la plus populaire de l'Histoire tunisienne, surnommé "Frank Sinatra de Tunisie". Ses chansons touchent toutes les franges de la société depuis l'indépendance jusqu'à aujourd'hui. Mais pourquoi a-t-on caché sa renommée à sa petite fille ? PAPA HEDI révèle l'incroyable histoire derrière un homme et sa musique et offre un panorama fascinant de l'évolution de la scène culturelle tunisienne. Le film construit un portrait profond du parrain de la musique tunisienne – un père pour la nation mais pas toujours pour sa famille.
ENG - This film was distributed by Hakka Distribution. PAPA HEDI: The man behind the microphone is a film directed by Claire Belhassine. It is a documentary co-produced by Tunisia, the United Kingdom and Qatar in 2017.
In 1:26, this film illustrates the exciting life of Hedi Jouini, leader of Tunisian music about the themes of love, family, celebrity and finally music.
Synopsis
Hedi Jouini is the most popular musical star in Tunisian history, nicknamed "Frank Sinatra of Tunisia". His songs touch all the fringes of society since independence until today. But why did one hide his fame from his little girl? PAPA HEDI the incredible story behind a man and his music and offers a fascinating panorama of the evolution of the Tunisian cultural scene. The film made a deep portrait of the godfather of Tunisian music - a father for the nation but not always for his family.