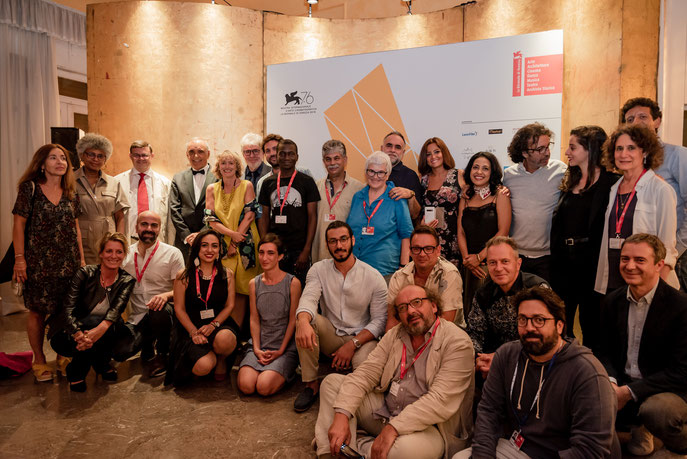 Depuis 2013, la Biennale de Venise offre aux porteurs de projets d'Afrique, d'Irak, de Jordanie, du Liban, de Palestine et de Syrie, l'opportunité de présenter leurs longs-métrages fiction et documentaire en cours de montage pour obtenir des aides à la post-production. Présentés à des producteurs internationaux, ces projets peuvent bénéficier de coproductions et d'une première mise en marché de leur film.
Cette année, deux jurys composaient cette aide à la post-production : le jury de la Biennale de Venezia - composé de Frédérique Rouault (Playtime), Vincenzo Bugno (World Cinema Fund - Berlinale) et Paolo Minuto (Cineclub Internazionale) - et le jury de Final Cut Venice, composé des partenaires techniques et institutionnels. 
AWOTELE vous livre ici la liste des 5 projets africains sur 6 sélectionnés du 30 août au 2 septembre 2019 ainsi que les différents prix remportés :
FICTION
Mica de/by Ismaël Ferroukhi (Morocco/France)
Production : La Prod

Coproduction : Elzévir Films
Mica, 10 ans, vit avec sa mère et son père malade dans un bidonville à la périphérie de Meknès. Un ami de ses parents, homme à tout faire dans un club de tennis de Casablanca, l'embauche comme apprenti. Mica se retrouve dans un monde totalement nouveau où une nouvelle vie l'attend.
Mica, 10, lives with his mother and sick father in a slum on the outskirts of Meknes. His parents' friend, a handyman in a tennis club in Casablanca, takes him as his apprentice. Mica finds himself in a whole new world where a new life awaits him.
Studio L'Equipe is giving € 15,000 to be chosen for either 10 days of mixing studio and sound deliveries (sound mixer not included), or 5 days of DCP grading, including conformation, rendering and master DCP (colourist not included).

Titra Film is giving up to € 5,000 for colour-grading; up to € 3,000 for the production of a DCP master, i-Tunes, Google or Netflix files; up to € 2,000 for French or English subtitles (translation not included).

El Gouna Film Festival is giving $ 5,000 and an invitation to participate in the industry platform CineGouna;

MAD Solutions is offering marketing, publicity and distribution in the Arab World;

Eye on Films is giving the possibility to benefit from the Eye on Films label, that will present the film to distributors and festivals affiliated to EoF and will contribute to the communication of the film for a value of € 2,500 during its world premiere in an A-category festival.

Festival International de Films de Fribourg is offering its participation in the production costs of a DCP (€ 2,500).
DOCUMENTARY
Captains of Za'atari de/by Ali Elarabi (Egypt) 
Production : Ambient Light Films
Coproduction : Lotus Picture Co
Deux meilleurs amis adolescents, prisonniers du camp de réfugiés Za'atari en Jordanie, ont le rêve absolu de devenir des jouerus de foot professionnls. N'ayant jamais quitté leur camp depuis leur arrivée, les deux se battent contre vents et marées pour atteindre leur objectif tout en s'assurant d'ouvrir une voix pour la prochaine génération de ce camp.
Two teenage best friends trapped in the Za'atari Refugee Camp in Jordan have an undying dream of becoming professional soccer players. Having never left the camp since they arrived, the two work against the odds to achieve their goal while making sure to pave a way for the next generation of youth in the camp.

En route pour le milliard de/by Dieudo Hamadi (Democratic Republic of Congo, France, Belgium)
Production : Kiripi Films
Coproduction : Les films de l'Oeil sauvage, Néon Rouge Production
En juin 2000, il y avait la guerre à Kisangani. Des milliers de personnes périrent, des milliers d'autres furent blessés. Après la guerre, 1 milliard de dollars a été promis aux victimes. 18 ans plus tard, elle se rendent à Kinshasa pour réclamer leur argent. 
In June 2000 there was a war in Kisangani. Thousands of people died, thousands were injured. After the war, 1 billion dollars were promised to the victims. 18 years later they travel to Kinshasa to claim this money.

Award:
Prix de La Biennale de Venise - 5000€ :

"For the continued progression of the director, taking into consideration both the human intensity contained in this epic narrative and his artistic and creative potential."
Makongo de/by Elvis Sabin Ngaibino (Central African Republic, Argentina)
Production : Daniele Incalcaterra
Dans le sud-est de la République Cntrafricaine, deux jeunes pygmées, Albert et André, se battent pour l'éducation des enfants dee leur communauté. Pour financer leur projet, ils ne comptent pas sur l'aide de l'Etat, ni des ONG, mais plutôt sur les ventes des chenilles : les makongo.
In the south-east of the Central African Republic, two young Pygmies, Albert and André, fight for the literacy of children in their community. To finance their project, they do not count on the help of the State, nor on the NGOs, but on the sale of their caterpillar harvest: the makongo.

Awards:

Laser Film is giving € 15,000 for the colour correction of a feature-length film for up to 50 hours of work (technician included);
Mactari Mixing Auditorium (Paris) is giving up to € 15,000 for the sound mixing of a feature length film (up to 12 days of work, sound re-recording mixer not included);
Cinémathèque Afrique of the Institut Français is offering the Prize "Coup de cœur de la Cinémathèque Afrique", consisting in the acquisition of the non commercial and non exclusive broadcasting rights for 7 years with a value of € 4,000 – 6,000 depending on the genre, length and available territories of the film;
Nardjes, Alger, Mars 2019 de/by Karim Ainouz (Algeria, France, Germany, Brazil)
Production : Show Guest Entertainment

Coproduction : Inflamavel, MPM Film, Watchmen Production
Ventes internationales : MPM Premium
Ce film dresse le portrait de Nardjes, une jeune femme algérienne, alors qu'elle rejoint des milliers de manifestants pacifistes dans les rues d'Alger le 8 mars 2019, Journée internationale de la femme, date d'annonce de la 5e candidature du Président Bouteflika. L'obejctif de Nardjes et des manifestants est de combattre pour renverser le régime qui ls a fait tair durant des décennies.
The film draws a portrait of Nardjes, a young Algerian woman, as she joins thousands of pacifists protesters in the streets of Algiers on the 8th of March 2019, International Women's Day, when President Bouteflika has announced his candidacy for a 5th presidential term. Nardjes's and the protesters' goal is to fight to overthrow a regime that has silenced them for decades.
Awards : 
Sub-Ti Ltd. is offering up to € 7,000 for the production of the DCP master and Italian or English subtitles;
Sub-Ti Access Srl is offering up to € 7,000 for the accessible contents of the film for audiences with sensory disabilities: subtitles for the deaf and hearing impaired and audio description for the blind and visually impaired, with audio subtitles, in Italian or English. The SDH file and the audio described soundtrack for DCP will be provided;
Rai Cinema is giving € 5,000 for the purchase of two-year broadcasting rights;
Festival International du Film d'Amiens is offering its participation in the production costs of a DCP (€ 2,500).