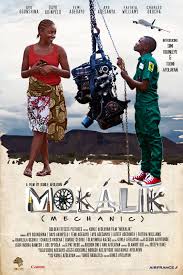 The 'Focus Nigeria' section at JCC 2019 opened on October 28 with Kunle Afolayan's 2019 drama, Mokalik (Mechanic). Speaking at the opening, JCC's Khalil Sallem, described the event as a timely opportunity to display the vastness of Nigerian cinema.
Mokalik, one of 9 films in the Focus Nigeria selection, portrays a day in a mechanics' workshop through the eyes of an 11-year-old apprentice. The drama unfurls in less than two hours with a series of incidents that are not uncommon in similar milieu. Afolayan offers a microcosm of the Nigerian society that many only encounter as clients to the different specialists in the garage, rather than as observers of their social dynamics and daily exigencies.
It is a similar discovery that the taciturn Ponmile (Tooni Afolayan) makes when he arrives at the workshop. With a keen gaze that unsurprisingly unsettles some of the older mechanics he has to work with and learn from, Ponmile constantly surprises - and offends - them when he speaks. He will equally be surprised by Kamoru's (Hamzat Sherifdeen) familiarity with the sequence of flights arriving at the airport, and the singing voice of Simi (Simi Ogunleye), who runs a canteen in the yard alongside her mother.
With dramatic moments lurking around at every turn, Ponmile continuously discovers more about himself and the intrigues of this 'strange' place, where he might just find himself at home.
While Mokalik might work well in bits though, it is hard to consider it as an effective or seamless whole. Many of the incidents and conversations – albeit entertaining or educative – are random and unconnected: snatches of events lacking the speed and spontaneity that real life offers especially in a place as active and vibrant as a mechanic workshop.
There are a lot of repetitive phrases to little effect (with the probable exception of "Ignorant l'o n da e lamu" endlessly invoked by Damilola Ogunsi's character Obama). Charles Okocha's cameo as Emeka, while related to one of the film's more remarkable plot twists, seems more an extension of his memefied online personae.
Running at a little under two hours, Mokalik could have benefited from further editing to enhance its flow and pace. While the pace might be a deliberate decision from Afolayan, it requires cultivated patience from the audience. The series of flash points and twists in the tale never really take off until it's time for Ponmile to return home.
Whatever else Mokalik might have failed to do however, there is no missing its emphasis on dignity in labour, holding true to one's values and finding joy in the least expected things.
Mokalik is a mild opener to what's on offer from the 'Focus Nigeria' programme. Festival guests can rest assured that other films in the selection – including Afolayan's October 1 – are faster-paced. From CJ Obasi's Hello, Rain and Ojuju, and Abba Makama's Green White Green to Daniel Oriahi's Taxi Driver: Oko Ashewo and more, there's a lot to look forward to. Kenneth Gyang's sex-trafficking drama Oloture will premiere on Thursday, October 31.


'Focus Nigeria' continues until November 2 with screenings across the festival venues. See schedule here: https://www.jcctunisie.org/eng/cinFocus4.php
Also in attendance are Nigerian filmmakers C.J. Obasi, Abba Makama and Adekunle Adejuyigbe (The Delivery Boy).
Aderinsola AJAO
Editorial Committee Member
NIGERIA