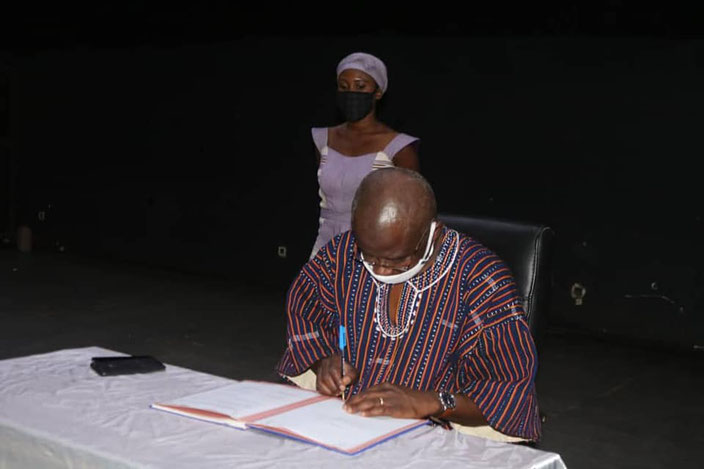 FR 137 films! C'est la production audiovisuelle cédée gratuitement par des cinéastes burkinabè à 8 chaînes locales pour diffusion.
Cette cession des droits de diffusion qui dure 3 mois est une réponse à l'appel du président du Faso à la solidarité pendant cette période de Covid-19. Parmi ces oeuvres, on dénombre 35 longs métrages format cinéma, 28 longs métrages format vidéo, 11 séries TV, 49 courts métrages de 13 minutes et 27 courts métrages de 26 minutes.
C'est en présence des producteurs de films, des patrons et promoteurs de chaînes de télévision que le Ministre de la Culture, des Arts et du Tourisme, Abdoul Karim Sango et son homologue de la Communication Rémi Fulgance Dandjinou ont signé la  convention ce 30 avril 2020.  Cette contribution est évaluée à près de 500 millions.
EN 137 films have been given for free by Burkinabè filmmakers to 8 local channels for broadcasting. The rights to broadcast that lasts 3 months, is a response to the call of the President of Faso for solidarity during this Covid-19 pandemic. Basically, 63 feature films,  11 TV series, 49 short films of 13 minutes and 27 short films of 26 minutes will be seen soon by the audience.
Producers, televisions promoters attended the ceremony where the Minister of Culture, Abdoul Karim Sango and his communication counterpart Rémi Fulgance Dandjinou signed the agreement on April 30 2020. This film donation is evaluated at almost 500 million.