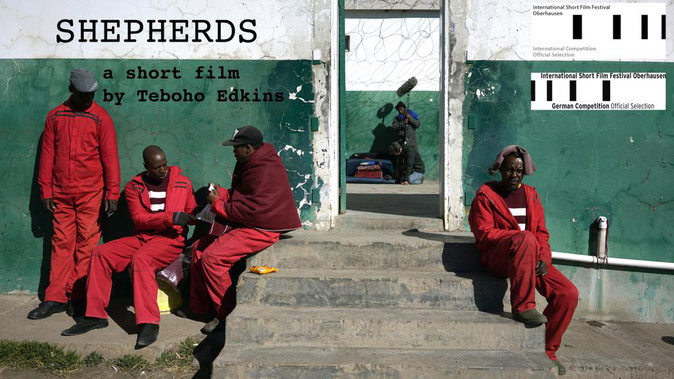 FR Le festival international de court-métrage d'Oberhausen (Allemagne) s'est achevé ce lundi 18 mai 2020 par une cérémonie de remise des prix en ligne. 20 prix d'une valeur totale de près de 42 000 euros ont été décernés à plus d'une dizaine de films. Parmi les oeuvres primées, figure Shepherds du sud-africainTeboho Edkins. Le réalisateur fait le portrait de voleurs dans une prison du Lesotho. Son film qui est une coproduction entre trois pays (Allemagne, France, Afrique du Sud) a remporté son premier prix de 5000 euros décerné par le jury du ministère des Sciences et de la Culture NRW. Le film a également reçu le Prix du Jury œcuménique, doté de 1 500 euros.
Shepherds de Teboho Edkins
France/South Africa/Germany 2020, 27min
EN The international short film festival Oberhausen (Germany) ended on Monday 18 May 2020 with an online award ceremony. 20 prizes with a total value of almost 42,000 euros were awarded to more than a dozen films. Among the winning shorts is  Shepherds by the South African director Teboho Edkins. He has portrayed thieves in a Lesotho prison. Teboho's film which is a co-production between three countries (Germany, France, South Africa) won its first prize of 5000 euros awarded by the jury of the NRW Ministry of Science and Culture. The film also received the Ecumenical Jury Prize, endowed with 1,500 euros.
Shepherds by Teboho Edkins
France/South Africa/Germany 2020, 27min