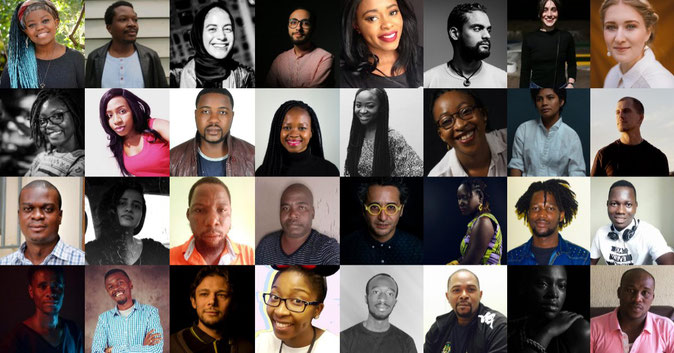 Le Talents Durban réunit  des cinéastes africains émergents et leur offre une occasion unique de rencontrer des mentors de l'industrie internationale. Grâce à des ateliers intensifs, des discussions et le développement de projets pratiques, les talents du continent sont encouragés à faire avancer leur carrière et à forger des relations avec leurs homologues mondiaux. Cette année, ce sont des talents de 18 pays africains qui sont sélectionnés. La 13è édition du Talent Durban se tiendra en ligne en Août prochain.
Liste des Talent Durban 2020 et leurs projets
Projets de long-métrage Fiction:
10.628 (Tunisie) Réalisateur: Issam Bouguerra
Behind High Walls  (Afrique du Sud) Réalisateur: Jonathan Kyriakou
Between Worlds (Ouganda) Scénariste: Adong Judith
Extravagant Ways to Say Goodbye (Afrique du Sud) Scénariste: Liese Kuhn
Ndi & Friends (Cameroun) Réalisateur: Nkuh Paul Samba
Objective Fespaco (Côte d'Ivoire) Réalisateur: Yoan Sea Douin Guelaté Casimir
Projets de courts-métrages:
Happiness (Maroc) Réalisateur: Aymen El Hankouri
Kidawa (Tanzanie) Réalisatrice: Florence Mkinga
Paulina (Afrique du Sud) Scénariste: Hlumela Matika
Our Identity (Bénin) Réalisateur: Dossou Gildas
The Last Scar (Cameroun) Réalisatrice: Stella Tchuisse
The Robot's Last Job (Afrique du Sud) Scénariste: Neo Sibiya
Projets de films documentaires:
Black People Don't Get Depressed (Afrique du Sud) Réalisatrice: Sara Chitambo
I might not normally share this (Egypte) Réalisatrice: Noura Sharaf
No winners in war (Botswana) Réalisateur: Tricia Laone Sello
Nzonzing (République Démocratique du Congo) Réalisateur: Moimi Wezam
To Be Loved (Togo) Réalisateur: Palakiyem Kpatchaa 
Their Choir (Maroc) Réalisatrice: Zineb Chafchaouni
The Kingdom of Masindi (Afrique du Sud) Réalisateur: Dowelani Edward Nenzhelele
Projets d'animation :
The Fam (Afrique du Sud) Réalisatrice: Kabelo Maaka
The Elected (Togo) Réalisateur: Kossi Messan Akoda
Lwanda Magere (Kenya) Réalisateur: Mark Kinuthia
TV & Web Series:
The Oath (Afrique du Sud) Réalisateur: Johannes Mzwandile Spirit
Dilema (Kenya) Scénariste: Voline Ogutu
Leviathan (Cape Verde) Réalisateur: Nuno Pereira  
Inside (Rwanda) Scénariste: Denis Valery Ndayishimiye
Talent Presse (Critiques de film/ Journalistes):
Amarachukwu Iwuala (Nigeria) 
Donald Matthys (Namibie) 
Elinoro Véronique Rajaonah (Madagascar)
Mohamed Moawad (Egypte) 
Taryn Joffe (Afrique du Sud) 
Tsakane Shikwambana (Afrique du Sud)
EN Talents Durban brings together emerging African filmmakers and provides them with a unique opportunity to meet with international industry mentors. Through intensive workshops, discussions and hands-on project development, the continent's up-and-coming filmmaking talents are encouraged to advance their careers and forge relationships with their global counterparts. This year, talents from 18 African countries are selected. The 13th edition of Talent Durban will be held online next August.
Official 2020 Talents Durban Participants & Projects
Fiction Feature Selection:
10.628 (Tunisia) Director: Issam Bouguerra
Behind High Walls (South Africa) Director: Jonathan Kyriakou
Between Worlds (Uganda) Screenwriter: Adong Judith
Extravagant Ways to Say Goodbye (South Africa) Screenwriter: Liese Kuhn
Ndi & Friends (Cameroon) Director: Nkuh Paul Samba
Objective Fespaco (Ivory Coast) Director: Yoan Sea Douin Guelaté Casimir
Fiction Shorts Selection:
Happiness (Morocco) Director: Aymen El Hankouri
Kidawa (Tanzania) Director: Florence Mkinga
Paulina (South Africa) Screenwriter: Hlumela Matika
Our Identity (Benin) Director: Dossou Gildas
The Last Scar (Cameroon) Director: Stella Tchuisse
The Robot's Last Job (South Africa) Screenwriter: Neo Sibiya
Documentary Selection:
Black People Don't Get Depressed (South Africa) Director: Sara Chitambo
I might not normally share this (Egypt) Director: Noura Sharaf
No winners in war (Botswana) Director: Tricia Laone Sello
Nzonzing (Democratic Republic of Congo) Director: Moimi Wezam
To Be Loved (Togo) Director: Palakiyem Kpatchaa 
Their Choir (Morocco) Director: Zineb Chafchaouni
The Kingdom of Masindi (South Africa) Director: Dowelani Edward Nenzhelele
Animation Selection:
The Fam (South Africa) Director: Kabelo Maaka
The Elected (Togo) Director: Kossi Messan Akoda
Lwanda Magere (Kenya) Director: Mark Kinuthia
 TV & Web Series Selection:
The Oath (South Africa) Director: Johannes Mzwandile Spirit
Dilema (Kenya) Screenwriter: Voline Ogutu
Leviathan (Cape Verde) Director: Nuno Pereira  
Inside (Rwanda) Screenwriter: Denis Valery Ndayishimiye
Talent Press (Film Critic / Journalist) Selection:
Amarachukwu Iwuala (Nigeria) 
Donald Matthys (Namibia) 
Elinoro Véronique Rajaonah (Madagascar)
Mohamed Moawad (Egypt) 
Taryn Joffe (South Africa) 
Tsakane Shikwambana (South Africa)