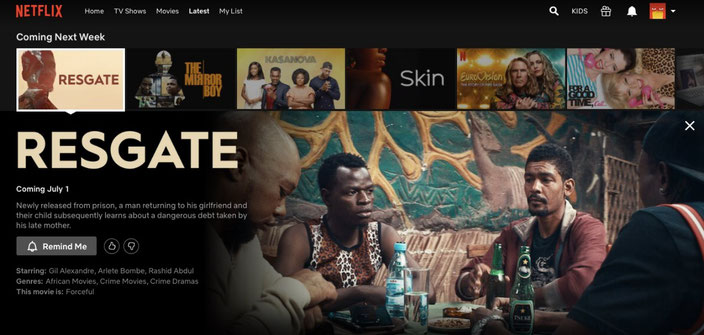 Le Mozambique fait désormais partie des pays qui diffusent des films sur Netflix. Le long métrage indépendant mozambicain «RESGATE», en français "REDEMPTION" est diffusé sur Netflix depuis le 29 juillet. RESGATE devient ainsi le premier film d'une nation africaine lusophone à être disponible sur la plateforme de diffusion mondiale. 
Pour le réalisateur du film, Mickey Fonseca, la présence du film sur Netflix « est très important pour le cinéma d'expression portugaise. Nous espérons qu'il ouvrira des portes à d'autres cinéastes, en particulier africains, et nous aidera à surmonter l'un de nos plus grands défis sur le continent: faire en sorte que nos films soient correctement distribués et représentés dans le monde ».
RESGATE / de Mickey Fonseca / Fiction /  Mozambique / 100'
Synopsis:
Un jeune ex-détenu en quête de salut est surpris par une forclusion bancaire qui l'oblige à comploter contre un chef du crime impitoyable.
EN Mozambique is now one of the countries that streams movies on Netflix. The independent Mozambican feature film "RESGATE" (REDEMPTION) debuts on NETFLIX on July 29 thus becoming the first from a Portuguese-speaking African nation to be available on the worldwide streaming platform. 
For the film's director, Mickey Fonseca, "this is very important for the cinema spoken in Portuguese. We hope that it will open doors for other filmmakers, especially African, and help us overcome one of our biggest challenges in the continent: getting our films properly distributed and represented around the world".
RESGATE / by Mickey Fonseca / Fiction /  Mozambique / 100'
Synopsis:
A young ex-con seeking redemption is surprised by a bank foreclosure that forces him to plot against a ruthless crime boss.