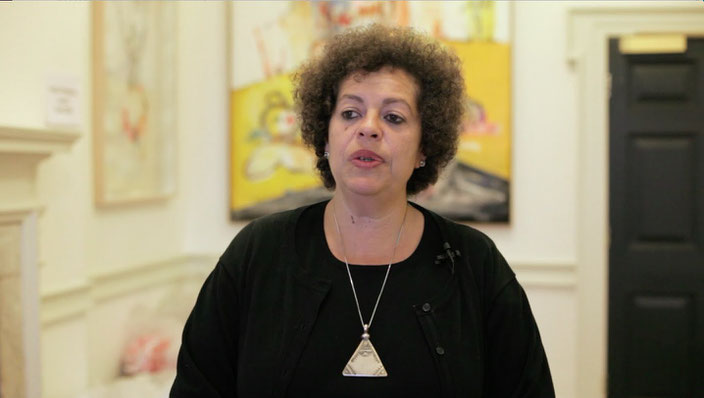 FR L'Africa Institute en collaboration avec la Sharjah Art Foundation et le Royal College of Art (Londres, Royaume-Uni) organise un programme de projection axé sur trois films de la cinéaste de renom égyptienne Jihan El-Tahri . Les projections se termineront par un webinaire mettant en vedette la cinéaste.
Lien d'inscription https://us02web.zoom.us/webinar/register/WN_YE6XKSDIQgO-ahuiYuenEA
Le programme comprendra trois des films d'El-Tahri; Cuba, une odyssée africaine (2006), Derrière l'arc-en-ciel (2008) et Tragédie des Grands Lacs (2000). Les films seront mis à la disposition du public en streaming gratuit pendant trois jours via le site Web de l'Institut africain http://www.theafricainstitute.org/film-screening-talk-jihan-el-tahri.php à partir du mardi 11 août 2020. Le webinaire, qui est prévu le jeudi 13 août 2020 à 20h00 (heure de Paris) accueillera le réalisateur Jihan El-Tahri dans une conversation animée par Carina Ray, professeure agrégée d'études africaines et afro-américaines à l'Université de Brandeis, avec Hlonipha Mokoena, professeur agrégé, WiSER, Université de Witwatersrand, et António Tomás, professeur associé, École supérieure d'architecture, Université de Johannesburg.
Ce programme de projection s'inspire de la mission éducative des trois institutions collaboratrices comme contribution à la compréhension, à travers le cinéma et l'art, du récent mouvement de protestation à travers le monde contre le racisme anti-noir. Il explore également le rôle destructeur du colonialisme en Afrique et les inégalités institutionnelles racialisées qu'il a créées, et dans le processus, il explore également l'axe de solidarité à l'époque de la décolonisation.
EN The Africa Institute (Sharjah, UAE), in collaboration with the Sharjah Art Foundation (Sharjah, UAE) and the Royal College of Art (London, UK) are organizing a screening program focusing on three films by the acclaimed Egyptian filmmaker Jihan El-Tahri. The screenings will conclude with a webinar featuring the filmmaker. 
Registration link https://us02web.zoom.us/webinar/register/WN_YE6XKSDIQgO-ahuiYuenEA
The program will include three of El-Tahri's films; Cuba, an African Odyssey (2006), Behind the Rainbow (2008), and Tragedy of the Great Lakes (2000). The films will be made available for audiences as free streaming for three days via The Africa Institute website http://www.theafricainstitute.org/film-screening-talk-jihan-el-tahri.php starting Tuesday, August 11, 2020. The webinar, which is scheduled for Thursday, August 13, 2020, at 8:00 PM (GST) will host film director Jihan El-Tahri in a conversation moderated by Carina Ray, Associate Professor of African and African American Studies at Brandeis University, Brandeis University, with Hlonipha Mokoena, Associate Professor, WiSER, University of Witwatersrand, and António Tomás, Associate Professor, Graduate School of Architecture, University of Johannesburg. 
This program of screening is inspired by the educational mission of the three collaborating institutions as a contribution to the understanding, through film and art, of the recent protest movement across the globe against anti-black racism. It also explores the destructive role of colonialism in Africa and the racialized institutional inequalities it created, and in the process, it also explores the axis of solidarity in the eras of decolonization.