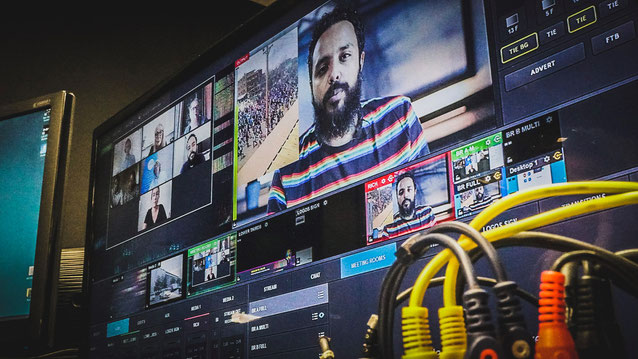 FR Le Durban FilmMart est le premier marché de financement et de coproduction cinématographique d'Afrique, qui a lieu chaque année à Durban. Pour cette 11 édition, 70 Speakers, 35 Sessions sont attendues du 04 au 13 septembre
Aujourd'hui, les tables rondes qui sont organisées en Anglais sont axées sur les thèmes suivants: 
-Focus sur l'Afrique du Sud: Tout en digital maintenant- Sortir des films en 2020
-Le contenu africain dans la nouvelle normalité: des plateformes en ligne locales pour le contenu panafricain
-DFM Hangout: Rencontrez les festivals africains
-NFVF: L'avenir du cinéma en Afrique du Sud
Durban fait du documentaire: le processus documentaire (Days of Cannibalism) - Teboho Edkins
-Forum de pitch du Durban FilmMart 
-FPB: Préjugés, discrimination et stéréotypes - L'art imite-t-il l'injustice sociale?
-Discussion de talentueux cinéastes : Cinéma du réel / Cinéma de l'humain
-Hangout DFM: découvrez les '12 Punto TRT Script Days'
-DFM Hangout: Association documentaire d'Europe
-Conversation DFM: Définir un nouveau cinéma courageux pour l'Afrique
-Hangout DFM: Agence d'artistes créatifs
-S'engager: qui le sent, le sait - Le pouvoir du développement de l'histoire africaine par les Africains
Pour plus de détails, cliquez ici:
En The Durban FilmMart is Africa's premier film finance and co-production market which takes place annually in Durban, South. This 11 edition, 70 Speakers,35 Sessions are expected from 04 to 13 September.Today panel discussions are focused on : 
SA in Focus: All Digital Now - Releasing Films in 2020
African Content in the New Normal: Homegrown Online Platforms for Pan-African Content
DFM Hangout: Meet the African Festivals
NFVF: Future of Film in SA
Durban Does Docs: The Doc Process (Days of Cannibalism) - Teboho Edkins
Durban FilmMart Pitch Forum
FPB: Prejudice, Discrimination and Stereotyping - Does Art Imitate Social Injustice?
Talents Filmmaker Talks: Cinéma du réel / Cinéma de l'humain
DFM Hangout: Meet the '12 Punto TRT Script Days'
DFM Hangout: Documentary Association of Europe
DFM Conversation: Defining Brave New Cinema for Africa
DFM Hangout: Creative Artists Agency
Engage: Who Feels It, Knows It - The Power of African Story Development by Africans
For more details, clic here: