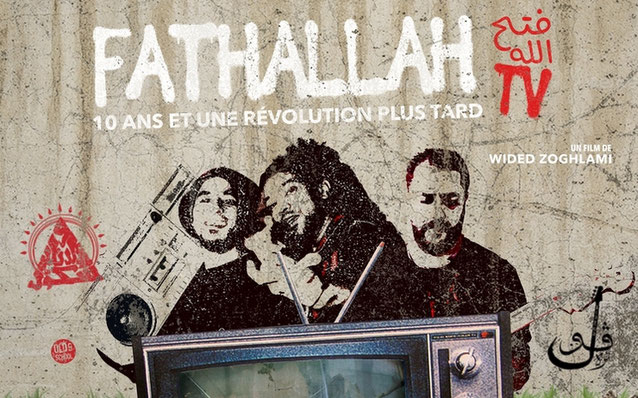 FR FATHALLAH TV est le premier long métrage de la réalisatrice Wided Zoghlami. Ce documentaire qui suit le parcours de jeunes musiciens du quartier populaire éponyme de la banlieue sud de Tunis, sera diffusé dans les salles tunisiennes à partir du 09 septembre 2020. FATHALLAH TV a participé à plusieurs festivals dont le festival international du film de Tozeur où il a gagné le Scorpion d'or.  
FATHALLAH TV / de Wided Zoghlami / Documentaire / Tunisie / 1h20' / 2019
Synopsis
Trois destins de jeunes, un quartier, une décennie entre deux époques : 2007 - 2017, de la dictature à la démocratie. A travers les rues et les maisons de Djebel Jeloud, ces jeunes partagent leurs rêves et nous livrent un regard aiguisé sur le pays. En suivant le parcours de trois musiciens et son propre parcours d'artiste, la réalisatrice pose un témoignage sur le processus de création et son impact sur la vie de chacun. Par la musique, le film se fait « porte voix » d'une génération
EN FATHALLAH TV is director Wided Zoghlami's first feature film. This documentary, which follows the path of young musicians from the eponymous popular district of the southern suburbs of Tunis, will be shown in Tunisian theaters from September 09, 2020. FATHALLAH TV has participated in several festivals including the international film festival of Tozeur where it won the Golden Scorpion.
FATHALLAH TV / by Wided Zoghlami / Documentary / Tunisia / 1h20' / 2019
Synopsis
Four destinies of young people, a district, a decade, embark us on a journey made of going and return between two eras: 2007-2017, from dictatorship to democracy. Following the path of three musicians and her own career as an artist, the director highlights the process of creation and the impact it can have on everyone's life. Through music, the film is a "voice" of a generation.