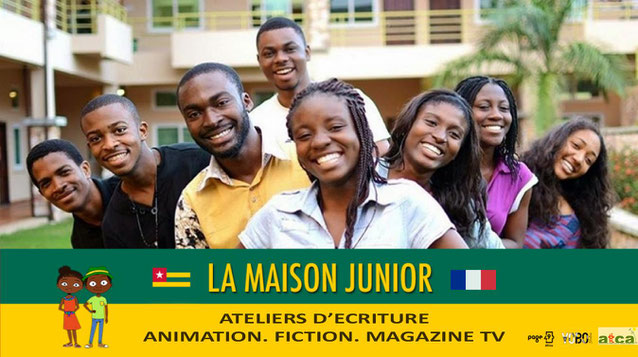 LA MAISON JUNIOR est une association fondée par PAGE 49, société spécialisée dans le développement de contenus audiovisuels destinés à la jeunesse, YOBO Studios, société de productions audiovisuelles, et l'ATCA, Association Togolaise du Cinéma d'Animation. Son but est d'organiser des ateliers d'écriture sur les
territoires africains francophones dans les domaines des séries d'animation jeunesse, des séries de fiction jeunesse et des magazine télé.
La Maison Junior propose à 15 participants venus de différents pays Africains de langue française d'acquérir avec le concours de professionnels reconnus dans leur métier des compétences dans les domaines de l'écriture scénaristique en produisant, grâce à des ateliers d'écriture, des contenus destinés à être diffusés en Afrique et à l'international soit:
• La saison 2 de la série d'animation jeunesse Junior idées (6/10 ans) en Or pour Gulli/Gulli Africa soit 39 scripts de 5'.
• Le concept de série de fiction jeunesse/famille adaptée de la série d'animation ainsi que 26 scripts de 26'
• D'écrire le concept d'un magazine TV et les conducteurs de 39 émissions de 13' « JUNIOR » destiné aux enfants.
Auteur(e)s concerné(e)s
Les ateliers d'écriture sont ouverts à tous les majeurs de langue française sans condition d'âge ni de nationalité. Les postulants devront justifier d'une expérience significative dans le domaine de l'écriture scénaristique.
Durée de la formation
10 mois de novembre 2020 à septembre 2021. Une phase de formation en distanciel de Novembre à Mars 2021 puis une phase en présentiel à Lomé au Togo d'Avril 2021 à Juillet 2021.
• Animation : 10 mois dont 6 mois en distanciel et 4 mois en présentiel.
• Fiction : 10 mois dont 6 mois en distanciel et 4 mois en présentiel à Lomé.
• Magazine : 5 mois dont 1 mois en distanciel et 4 mois en présentiel.
Date de candidature
• Magazine : du 07 septembre 2020 au 09 Octobre 2020
• Animation et fiction : du 07 septembre 2020 au 06 Novembre 2020
Conditions de candidature
Les candidats ne peuvent postuler qu'à un seul atelier de formation (Fiction –Animation – Magazine).
• Un pitch d'épisode de maximum 15 lignes sur la base du concept de la saison 1 de la série Junior idée en or. Le pitch devra contenir un début, un milieu et une fin d'histoire.
• Une séquence dialoguée d'une page tirée du pitch proposé mettant en scène le personnage de Junior avec un des personnages du concept de la série.
• Une lettre de motivation d'une page maximum répondant aux deux questions suivantes : que pensez vous apporter à la maison Junior et que pensez vous que vous apportera la Maison Junior.
Rémunération
• Une bourse de 150 euros par mois sur la période de formation.
• Droits d'auteur sur les scripts écrits
Frais pris en charge par la structure
• Forfait data mensuel de 20 euros pour la formation en distanciel
• Hébergement et repas en présentiel
• 1 Billet d'avion A/R pour les non togolais
• Frais de visa
Frais à charge des participants
• Frais de déplacement personnel durant la phase présentiel à Lomé.
Matériel fourni aux participants
• 1 PC portable.
Adresse d'envoi des candidatures
Merci de renvoyer en un seul PDF votre dossier complet au responsable d'atelier à l'adresse suivante :
• Animation (Christophe Guignement/Daniel Atchali) : animation@maisonjunior.site
• Fiction (Angela Aquereburu) et Magazine (Dominique Clément) :
fiction_magazine@maisonjunior.site
Suivez Maison Junior sur https://www.facebook.com/La-maison-junior-108474730953158 et Instagram lamaisonjunior
EN LA MAISON JUNIOR is an association founded by PAGE 49, a company specialized in the creation of audiovisual content intended for young people, YOBO Studios, an audiovisual production company, and ATCA, Togolese Association of Animation Cinema. Its aim is to organize writing workshops in French-speaking African territories in the fields of youth animation series, youth fiction series and TV magazines.
LA MAISON JUNIOR offers 15 participants from different French-speaking African countries to acquire, with the support of professionals recognized in their profession, skills in the fields of scriptwriting by producing, thanks to writing workshops, content intended for distribution in Africa and internationally, either:
• Season 2 of the youth animation series Junior Ideas (6/10 years old) in Gold for Gulli / Gulli Africa or 39 scripts of 5 '.
• The concept of a youth / family fiction series adapted from the animated series as well as 26 scripts of 26 '
• Write the concept of a TV magazine and the conductors of 39 13 'JUNIOR' shows aimed at children.
Intended author (s) 
The writing workshops are open to all French-speaking adults regardless of age or nationality. Applicants will need to demonstrate significant experience in screenwriting.
Training duration
10 months from November 2020 to September 2021. An online training phase from November to March 2021, then a face-to-face phase in Lomé, Togo from April 2021 to July 2021.
• Animation: 10 months including 6 months in remote and 4 months in face.
• Fiction: 10 months including 6 months in distance and 4 months face-to-face in Lomé.
• Magazine: 5 months including 1 month in remote and 4 months in face.
Application deadline
• Magazine: from September 07, 2020 to October 09, 2020
• Animation and fiction: from September 07, 2020 to November 06, 2020
Conditions to apply
Applicants can only apply for one training workshop (Fiction - Animation - Magazine).
• An episode pitch of maximum 15 lines based on the concept of Season 1 of the Junior Gold Idea series. The pitch should contain a beginning, a middle and an end of the story.
• A one-page dialogue sequence taken from the proposed pitch featuring the character of Junior with one of the characters from the series concept.
• A cover letter of no more than one page answering the following two questions: what do you think you will bring to  LA MAISON JUNIOR  and what do you think the  LA MAISON JUNIOR  will bring you.
Remuneration
• A grant of 150 euros per month during the training period.
• Copyrights on written scripts
Costs covered by  LA MAISON JUNIOR 
• Monthly data package of 20 euros for distance learning
• Face-to-face accommodation and meals
• 1 A / R plane ticket for non-Togolese
• Visa fees
Costs paid by participants
• Personal travel expenses during the face-to-face phase in Lomé.
Materials provided to participants
• 1 laptop PC.
Address for sending applications
Please send your complete file in a single PDF to the workshop manager at the following address:
• Animation (Christophe Guignage / Daniel Atchali): animation@maisonjunior.site
• Fiction (Angela Aquereburu) and Magazine (Dominique Clément):
fiction_magazine@maisonjunior.site
Follow Maison Junior on https://www.facebook.com/La-maison-junior-108474730953158 and Instagram lamaisonjunior
Source :  https://www.facebook.com/La-maison-junior-108474730953158