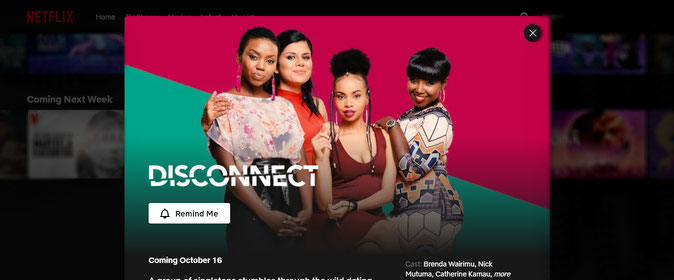 FR Disconnect, c'est le 3è film kenyan que vient d'acquérir Netflix. L'annonce a été faite par la Kenya Film Commission. Disconnect est une comédie romantique réalisée en 2018 par Nick Mutuma .Disconnect sera disponible en streaming à partir du 16 octobre 2020.
Disconnect  / de  Nick Mutuma / Fiction / Kenya / 1h 47min / 2018
EN Disconnect is the third Kenyan film that Netflix has just acquired. The announcement was confirmed by the Kenya Film Commission. Disconnect is a 2018 romantic comedy movie directed by Nick Mutuma. Disconnect will be available to stream from October 16, 2020.
Disconnect / by Nick Mutuma / Fiction / Kenya / 1h 47min / 2018
Source: https://thebrief.co.ke/, https://www.kbc.co.ke/