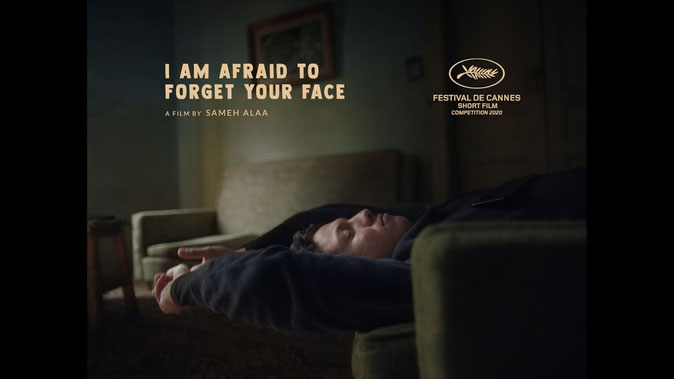 FR L'événement « Spécial Cannes 2020 », organisé du 27 au 29 octobre 2020 signe le retour du Festival. La sélection officielle de ce mini festival "Spécial Cannes 2020" était composée de 56 films. Le Jury des 11 Courts Métrages en Compétition a décerné la Palme d'Or court métrage à "I am Afraid to Forget Your Face" du réalisateur égyptien Sameh Alaa. Basé au Caire et à Bruxelles, Sameh Alaa est aussi le réalisateur des courts métrages The Bread, Shadow, Yun Yu, Le Steak de Tante Margaux
I am Afraid to Forget Your Face / de Sameh Alaa / Fiction / France, Egypte, Qatar, Belgique / 15' / 2020
Synopsis : Après une séparation de 82 jours, Adam parcourt une route difficile pour retrouver la personne qu'il aime, quoi qu'il arrive.
EN The "Special Cannes 2020" event, organized from October 27 to 29, 2020 marks the return of the Festival. The official selection of this mini festival "Special Cannes 2020" consisted of 56 films. The Jury of the 11 Short Films in Competition awarded the Palme d'Or for short film to "I am Afraid to Forget Your Face" by Egyptian director Sameh Alaa.
Based in Cairo and Brussels, Sameh Alaa is the director of the short films, The Bread, Shadow, Yun Yun, Le Steak de Tante Margaux.
I am Afraid to Forget Your Face / by Sameh Alaa / Fiction / France, Egypt, Qatar, Belgium / 15' / 2020
Synopsis : After an 82-day separation, Adam travels a rough road to be reunited with the one he loves, whatever it takes
Source: france3-regions.francetvinfo.fr ; cannes2020.festival-cannes.com