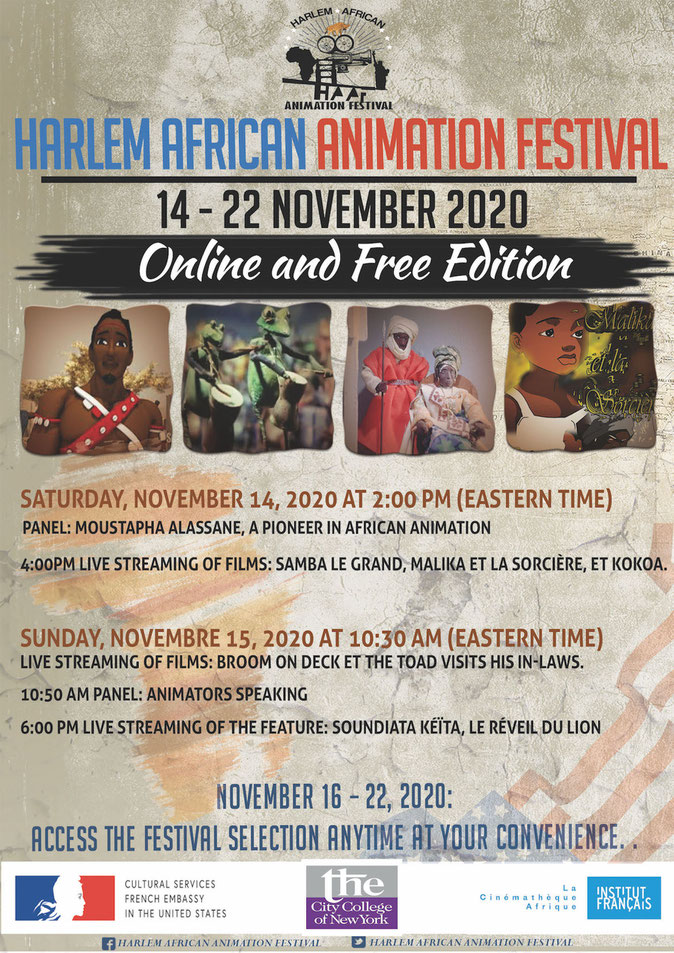 FR La première édition du festival d'animation africaine d'Harlem est dédiée aux films et séries d'animation d'Afrique. Le festival donne voix et présence à une pratique cinématographique africaine moins connue de l'animation. Pourtant, elle a une force créative florissante sur le continent. S'appuyant sur le travail de réalisateurs de films d'animation tels que Moustapha Alassane, William Kentridge, Jean Michel Kibushi ou Celia Sawadogo, une jeune génération d'animateurs profite des nouvelles innovations technologiques pour amener les histoires africaines dans le monde de l'animation.
Cette première édition numérique verra l'organisation de tables rondes et la diffusion en direct de films suivis de sessions de questions / réponses accessibles du 14 au 22 novembre.
EN Harlem African Animation is the first festival in the United States to be entirely dedicated to Animated films and series from Africa. The festival gives voice and presence to a lesser known African cinematic practice of animation and yet a thriving creative force currently sweeping across the continent. Building on the work by long established animators such as Moustapha Alassane, William Kentridge, Jean Michel Kibushi, or Celia Sawadogo, a younger generation of animators are taking advantage of new technological innovations to bring African stories to the world of animation.
This first and digital edition include panel discussions and live streaming of films followed with Q/A sessions accessible to watch November 14-22.
Source : https://frenchculture.org/film-tv-and-new-media/12573-2020-harlem-african-animation-festival?fbclid=IwAR3dzIvwD4_IKjkNnmGCvYHkNK6B9Px2p-LzLknTQzEbXTKp6vLsM4UrDkQ