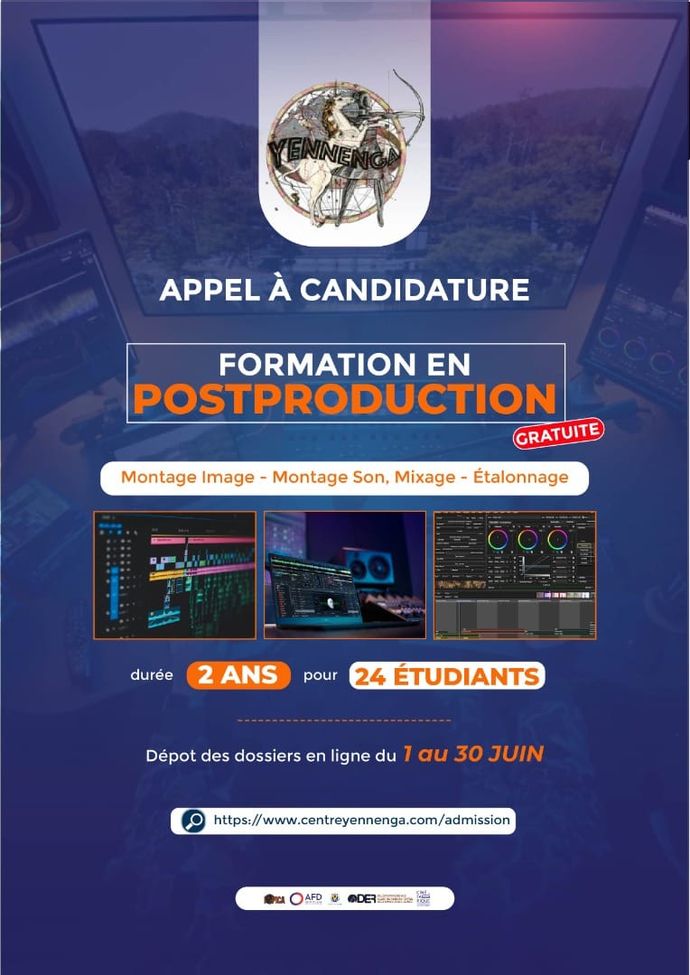 FR Le Centre Yennenga, basé à Dakar, a engendré un hub dédié au cinéma. C'est une initiative du réalisateur Alain Gomis pour développer le cinéma en Afrique. Ce centre lance un appel à candidatures pour la formation gratuite en post-production à partir de mi-septembre 2021, pour une durée de deux ans.       
La formation est destinée à des personnes ayant déjà bénéficié de formation (académique ou autodidacte) et/ou ayant acquis une connaissance pratique. Sont privilégiées les candidatures justifiant d'expériences concrètes (de tous niveaux). 24 étudiants seront admis dans les sections : Montage Image (6 places), Montage Son / Mixage (12 places) et Étalonnage (6 places). Les dépôts de dossiers sont ouverts jusqu'au 30 Juin 2021.
EN The Yennenga Center is a hub dedicated to cinema.  Based in Dakar, the Center is an initiative by director Alain Gomis to develop cinema in Africa. The Yennenga Center is calling for applications for free training in post-production for a period of two years starting from mid-September 2021.
The training is intended for people who have already benefited from training (academic or self-taught) and / or who have acquired practical knowledge. Candidates with concrete experience (at all levels) will be favored.
24 students will be admitted: Image Editing (6 places), Sound Editing / Mixing (12 places) and Color grading (6 places)
Applications are open until June 30, 2021.
Source: https://www.centreyennenga.com/admission?fbclid=IwAR2mMuUDwAZlG-W4sfFJFp_3vBX1hpY8lhSL3HpYcmbPVjpNZ8zk17t5ADQ