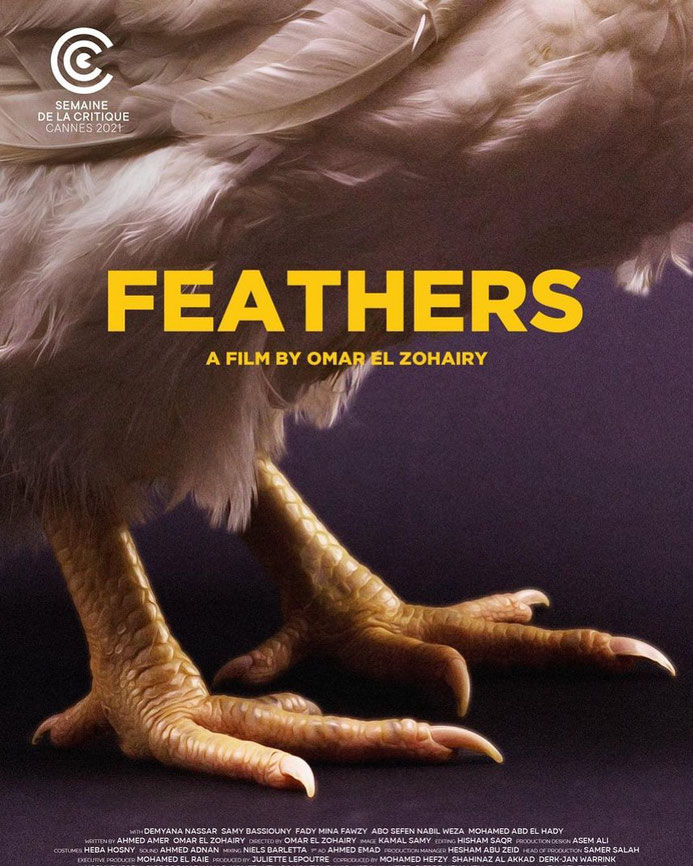 Le jury de la 60ème Semaine de la Critique du 74e Festival de Cannes a attribué le Grand Prix 2021 à Feathers le premier long-métrage de l'Égyptien Omar El Zohairy.
Feathers / Omar El Zohairy / Fiction /  Egypte, France, Pays-Bas, Grêce/ 112' / 2021
Synopsis
Une mère passive, dévouée corps et âme à son mari et ses enfants. Enfermée dans un quotidien monotone, rythmé de tâches banales et répétitives, elle se fait aussi petite que possible. Un simple tour de magie tourne mal pendant l'anniversaire de son fils de quatre ans et c'est une avalanche de catastrophes absurdes et improbables qui s'abat sur la famille. Le magicien transforme son mari, un père autoritaire, en poule. La mère n'a d'autre choix que de sortir de sa réserve et assumer le rôle de cheffe de famille, remuant ciel et terre pour retrouver son mari. Luttant pour sa survie et celle de ses enfants, elle devient peu à peu une femme indépendante et forte.
EN The jury of the 60th Critics' Week at the 74th Cannes Film Festival awarded the 2021 Grand Prix to Feathers, the first feature film by the Egyptian Omar El Zohairy.
Feathers / Omar El Zohairy / Fiction / Egypt, France, Netherlands, Greece / 112 '/ 2021
Synopsis
A passive mother, devoted body and soul to her husband and children. Locked in a monotonous daily life, punctuated by banal and repetitive tasks, she makes herself as small as possible. A simple magic trick goes awry on her four-year-old's birthday and it's an avalanche of absurd and unlikely catastrophes that befell the family. The magician turns her husband, an authoritarian father, into a hen. The mother has no choice but to step out of her reserve and assume the role of head of the family, moving heaven and earth to find her husband. Struggling for her survival and that of her children, she gradually becomes an independent and strong woman.
Source : https://cineuropa.org/fr/film/406004/