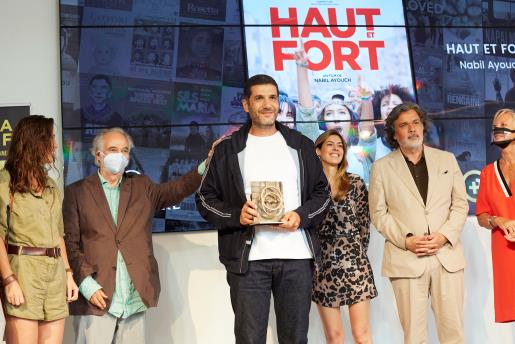 FR Le trophée du « cinéma positif », créé par la Maison de haute joaillerie Tournaire, récompense le film le plus "positif" de la sélection officielle du Festival de Cannes.  
Le "Prix du Cinema Positif 2021" a été décerné au réalisateur marocain Nabil Ayouch pour son film Haut et Fort (Casablanca Beats), en compétition officielle au 74e Festival de Cannes.  Il s'agit aussi du premier film marocain en compétition officielle à Cannes. Pour recevoir ce prix, Nabil Ayouch était accompagné de son épouse la réalisatrice Maryam Touzani, elle-même lauréate du Prix du Cinéma Positif en 2020 pour son film Adam.
EN The "positive cinema" trophy, created by the Maison de haute joaillerie Tournaire, rewards the most "positive" film in the official selection of the Cannes Film Festival.
The "Positive Cinema Prize 2021" was awarded to Moroccan director Nabil Ayouch for his film « Haut et Fort » (Casablanca Beats), in official competition at the 74th Cannes Film Festival. It is also the first Moroccan film in official competition at Cannes. To receive this award, Nabil Ayouch was accompanied by his wife, director Maryam Touzani, herself winner of the Positive Cinema Prize in 2020 for her film Adam.